Ian McGregor (Mac) harbours a terrible secret, an unforgivable crime that drove his wife to suicide, caused him to resign from the CIA and, if she ever discovers the truth, would devastate his adopted daughter, Jessie. Tormented by a past he can never reveal, he now smuggles illicit art through international borders.
But there is something ominous about Mac's latest consignment. Unearthed in the Libyan Desert in 1948 and then possessed by a succession of wealthy men, the artefact he carries is impossibly old. Like the arrow that pierced Achilles' heel, it is a myth and to the outside world does not exist.
Until it is stolen, and a man called Lincoln demands that he retrieve it, warning of a holocaust the world could not imagine. Mac contacts the CIA, but nothing is as it seems and no one can be trusted. Even worse, Lincoln has recruited his adopted daughter, Jessie – and that is unforgivable.
But Jessie is not who she thinks she is, and nor, incredibly, is Lincoln, although nothing could have prepared Jessie for the truth about her father, or the tragedy that is about to unfold. The recovery of Egypt's true legacy has become a deadly race, to stop our world reverting to the Stone Age.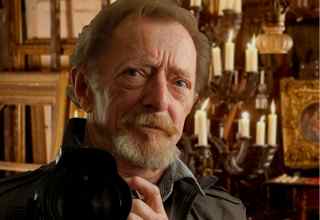 Welcome to A Darker Gold, by award-winning film director and director of photography CJ 'Chris' Ashbrook.
Debut international thriller blends an extraordinary act of world terrorism that questions the very origins of civilisation.
From an award-winning director of music videos including the Eurthmics iconic 'Sweet Dreams'
A Real Page Turner.
Stephanie J Hale
This is a gripping novel with larger- than-life characters, a compelling plot and vivid settings. There are plenty of unexpected twists and turns, and you'll keep turning the pages from beginning to end. Chris Ashbrook is a fantastic storyteller.
You really won't want to put this novel down until you've reached the final page!
A good lazy weekend read. Jud
Kept you thinking till the end, C JAshbrook has a gift in his use of words looking forward to reading more of his books.